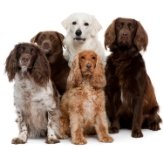 We want your pet's stay to be a happy, stress free and enjoyable one
Doggy & Moggy Holidays is just outside the village of Thiat in the Limousin region of France. We are set in 8 acres of securely enclosed land, which includes a lake.
At Doggy & Moggy Holidays, we know what your dogs & cats mean to you, and we just want your pet to feel as comfortable as possible.
It's a difficult time when you leave your pet, both for them and for you. So our aim is purely, for their stay with us to be a happy, enjoyable and stress free one.
When they leave us at the end of their stay, we want them to be looking forward to their next holiday with us. And we hope, on collecting them, you will recognise that your pet is looking and feeling relaxed and content, and you know they have been well cared for, so you will feel, happily reassured to let us care for them again and again…