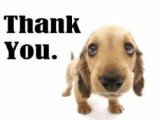 Take a look at some of our clients testimonials
Fabulous – the dogs don't want to come home
Sean and Josie have been looking after Jed and CJ our two border collies for 4 years and our precious pair never want to come home.
Jed spends relaxed summers away from our visiting very young grandchildren (CJ is more tolerant) and he never feels lonely being away from his sister.
When they go together they are home away from home, and when they work out where they are going in the car, there is much delight.
Cannot recommend Sean and Josie enough – but not too much so that they are too busy to take our pair LOL
Best kennels that are absolutely NOT kennels EVER!
Helen & Gary
PS we even got a recommendation for a brilliant vet who sorted out CJ's leg problems
Helen Morris
Jax's weekly holiday
We've been using doggy moggy holidays since June, I recommend this place to anybody. Our Jax hadn't been introduced to other dogs, because of the lockdown, but now he goes every week and gets to run around and play with new friends each time. They also have a lovely lake for all the dogs to enjoy.
Josie and Sean are so good at what they do.
Abigail Scott-Duncan
Fantastic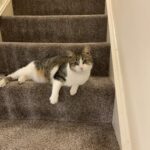 Noelle has spent many holidays at Pussingham Palace and she was always exceptionally well looked after. It is truly 5* accommodation and service. As soon as she arrived for each visit she couldn't wait to get out of her carrier and get settled in, a great sign that she was always content. We were always kept updated with photos throughout her stay. We have moved away now and Noelle will miss her visits. We will never find another Pussingham Palace 🥲
Joe and Gill Grech
Bingley
Many thanks for all you have done for Bingley and us as well. Your help when we had all the issues with Martins sister and your kindness in having Bingley to stay for a much longer time than was planned was exceptional. We will miss you both and I'm sure Bingley will as well. We have never trusted anyone but you two to care for him. A huge thank you.
Gwyneth Grove
Ludo
Ludo has had several happy stays over the last few months but this time was there for 6 weeks so we were a little anxious but as usual Josie sent us lots of photos of him having a great time racing around with all his mates. Josie & Sean have such a fantastic place – it's a home from home where the animals are treated as family.
Thank you so, so much.
Christine Silver
Happy
Our dog Happy had a lovely few days with Josie and Shaun. He was well looked after and enjoyed the company of his doggy friends.
Would definitely recommend Josie and Shaun's Doggy and Moggy hotel.
Mrs Christina Wallbank
Peri
This is my second testimonial, as our boy Peri is a frequent visitor for his holidays at Josie and Sean's. We are very busy and regularly have to leave Peri for the day. How different our lives would be if he was not happy to leave us. On arrival he dashes off to greet Josie or Sean without a backward glance. He has such a wonderful and secure time, and as can be seen from the many photos the dogs are free to run, explore and play. How different from a cage with a small fenced outdoor area, where communication with other dogs is forbidden. We are so fortunate to have these wonderful kennels just 20 minutes from home. Josie and Sean, we cannot thank you enough.
Di Fowler
Visit
I visited today, with my cat, and was very impressed by Josie and her kindness, humour, and professional hospitality, and by the clean, welcoming place she and Sean run for their animal lodgers. My cat will stay for 3 nights next week, and I am sure he will have a good `'holiday" while his mum is in Paris:):)
Martha's Trial stay
Thank you so much for looking after Martha on her first visit to kennels and treating her as one of the family. We were much relieved and very happy, as was Martha.
Chummers Hydrotherapy
I would like to thank you for the work you are doing with Chummers he has come on so much just by coming to your hydro therapy , I am now letting hIm have more freedom and he is using his back legs and gaining strength daily you are amazing , it means so much to us all so from the bottom of our hearts merci beaucoup . xx
Grisou, Marusha & Nikita
Dear Josie and Sean,
our dogs arrived happy and tired at home (and Marita and me too). Marusha smiled the whole time when we got her out of the car.
thank you so much for making this exciting day out.
Coco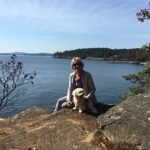 I cannot sing Josie's praises high enough. I was on holiday at my sister's house in Le Dorat, France this summer and needed to get to the U.K. but it was near impossible to take my tiny (beloved – spoilt ?) Havanese mix dog "Coco" with me. Someone in the village recommended Josie and Doggy and Moggy Holidays. It was with some trepidation I dropped her off. It was the best thing I ever did. She was so well taken care of and Josie continually sent me photos and updates, and I saw her sleeping on the sofa, playing with the other dogs and then having free run with the 'pack' up hill and down dale. It was a joy and relief for me and It certainly was a joy for Coco. She came back happy and content. Thank you again Josie, maybe see you next year.
Arna Berg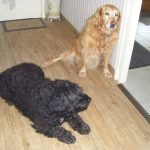 BIG thanks Josie for looking after our two dogs. We are sure that they had a good time with their other doggy pals. When we picked them up they were clean and brushed, their bedding was dry and didn't smell .
Will definitely send them to you again if we have to go away.
Roger and Anoita Fail
A great stay!
Thank you so much, Josie and Sean, for making our boy's time with you so successful – we know that your special care of him went way beyond the call of duty. As a rescue dog he has had a traumatic past so needs that little extra TLC, which was so willingly given.
We'll be back!
S Zangrandi
Sam's holiday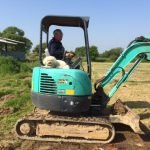 Due to my hospitalisations we booked sam into Doggy Holiday for 4 days, unfortunately that turned out to be 2 weeks.Josie and Sean were happy to help and look after sam for the extra days. Sam looked so happy on the photo that were sent to us. Sam has been in other kennels over the past 9 years but I have never seen him so content and happy. Saying thank you does not say enough but thank you from us and a big thanks from sam.
We will be booking sam in again in the next few days.
Carl Woods
Bertie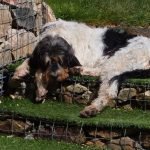 Bertie only stayed with you for 4 days while we went to collect his new little sister but he had the best time ever. What a fantastic place and great people.Thank you for his stay. He and will defiantly stay here again with his new sister.
Christine Wilson
Best holiday!
D4 had the best holiday ever , I can't recommend them enough ! Looked after so well and not locked up all day ! ❤?
Debbie Dickenson
Smudge
Our dog Smudge enjoyed himself so much that he was depressed to be back home for at least 3weeks.
He was happy and so were we .
Alice Kirby
Just to thank you
Dear Josie and Sean,
Just to thank you so much for taking care of my boys when I was taken into hospital last week. I don't know what I would have done without you, coming over and collecting them and sending me pictures of them enjoying themselves. It took the worry away from me while in hospital, I could see them enjoying themselves and the pictures made me smile.
I could see so much improvement in DeDe when he came home after all the hydrotherapy you gave him while he was with you. His back legs no longer dangle and he puts his paws down on the ground properly and is in a much better position when being supported. He stands properly while I am taking his wheels off, especially on the mat where it is not slippery. I am so pleased with his progress – I know it will take a long time, but I do now believe he will get there.
He is certainly a happy little chap, though he is a bit of a diva – understatement! They miss you both and their friends over there to play with and will be glad to get back to you for the three days next week. I'm getting better by the day and will soon be able to keep up with DeDe on his wheels.
Again, my very grateful thanks for being such a wonderful caring couple and giving my boys and all your other guests such a fantastic holiday environment.
See you next week
Chris
Christine Nicholson
Homesick after 6 night stay at Doggy Holidays
Our beloved Sushi and Meeuw spend a 6 night stay at
Josies and Sean's Doggy Holidays.
Tyered and very happy when we came yesterday night to pick up the "Barking basterds".
Now, after a good sleep, they are homesick and laying around thinking back at theire superb holiday.
Specially Meeuw must have been falling in love, as usual…
Thanks Josie
Albert and the Dashounds
Albert Moes
Thank You!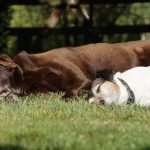 Josie and Sean have looked after our dogs on a regular basis for the past 3 years. I would highly recommend them. They always keep in touch with emails/photos and were kind enough to continue to care for our elderly labrador as he began to struggle with his arthritis.
Can also recommend the hydrotherapy. Our jack russell cross had several sessions after cruciate ligament surgery and it really helped him to recover quickly.
Many thanks and keep up the good work.
Deb & Ash
Debbie Spark-Hall
A happy boy
A happy boy, home from his third visit to Doggy Holidays. Reminding us of our boys returning home from scout camp, happy, tired and dirty.
Always great to have peace of mind and know that he is being well cared for. Love that we receive emails and photos while we are away.
Thanks again.
Hazel.
Hazel Massie
Henri
A happy boy, home from his third visit to Doggy Holidays. Reminding us of our boys returning home from scout camp, happy, tired and dirty.
Always great to have peace of mind and know that he is being well cared for. Love that we receive emails and photos while we are away.
Thanks again.
Hazel.
Hazel Massie
Tree surgeon
Thank you for the third time, my boys LOVED their stay, I feel I can enjoy my time away, nearly as much as they do!
As mine are older dogs it is of great importantance to me they are treated in the very best way possible, Josie this you deliver in barrow loads, I'd also like to add, this time round I asked for an extra day, you accompdated us without any doubt, you always go the extra mile, thank you from the the true meaning of the bottom of my heart.
Hope you have also had time to enjoy the Wine, a gift, because you are so fab. X see you in December x
Beverley pawson
A wonderful two weeks
Becky seemed to have had a wonderful two weeks with Josie and Sean and made lots of doggy friends. She soon learned how to swim in the lake and absolutely loved it. We would certainly recommend Doggy Holidays to our friends and thank you Josie & Sean for looking after her so well.
Sue & Mick Atkinson
Sue & Mick Atkinson
Henri
Our dog Henri, a Fox Terrier, had a great holiday and it was lovely to see him having fun and swimming with his new friends in the email updates with photos from Josie. I am sure he is looking forward to his next visit, as we are.
Hazel and Iain Massie
Thank You For Peace Of Mind
Thank you for taking care of Chummers over the weekend, I think he had a lovely time , he is already missing the other dogs ….I can tell !!
You were recommended to me by a friend and she also loves the fact that the dogs are so well taken care of .
We could go away with peace of mind and also quite excited knowing that Chummers was also having a holiday !!!
We will certainly recommend and also be using you again ! with out a doubt Thank You.
Sally Davies
Good Times
Bobby and Cadi had a lovely time again. I don't think Bobby likes coming home after his holiday. Your photos of Cadi swimming are great as she hardly puts a paw in the water at home. Bobby is looking forward to his next holiday. Thank you very much for making them both happy and saving us a guilt trip for not having them with us.
Gary and Elaine
Gareth Owen
A doggy delight
We travel a lot on business and our aged cocker spaniel, Thea, could not be happier than when she is with Josie and Sean. Not sure she really wants to come home when we collect her as she has so much fun with them and all the other dogs. Despite her thirteen years she runs, swims and walks with the best of them.
We can travel in the safe knowledge that she is being totally loved and looked after and for that we can not thank you enough. Doggy Holidays really does provide the best care we could wish for in our absence.
Deby Earls
100% relaxed and happy
Our boys ( well one is actually a girl, but we've always called them the boys) have had 8 days at Doggieholidays, they returned yesterday, 100% relaxed and happy. Today it is like they have never been away.
I can only thank Josie again for her exerllent care of our precious boys. We have used house sitters, but that had not worked for us, kennels is a defiant no for us, so Doggie holidays was the perfect solution. We have lost 4 dogs in the last year, mostly to old age, then gained 2 following my dads death. The right care was essential to us, and I'm very pleased to report, we will be using this service always from now on.
Well done, and thanks again, also the photos and updates during there stay was a lovely touch.
Beverley pawson
Perfect place for dogs
Just collected our dog, Lulu, from Josie. She has been very happy there while we were away, Josie e-mailed photos of Lu enjoying herself, which made us feel very confident she was being looked after like one of the family.. Will definately be leaving her again soon.
Wendy Whitfield
Our dogs have been totally happy
After searching for quite some time for a reliable kennels for our two rescue dogs, josie was recomended to us. I am so glad she was!! Our dogs have been totally happy there and the pictures.
Josie sent to me of them confirmed this, and put my mind at rest. They will continue to go on holiday there! for as long as josie will have them!!!!
Ann Aspland
ann aspland
Both in lovely condition and tired
Another thank you to Josie for looking after Jed and CJ – neither wanted to leave (this is becoming embarrassing, honestly we do look after them properly!) and both in lovely condition and tired as before – big thank you
Helen Morris
Definitely a doggy holiday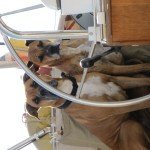 With many thanks to Josie and Shaun for looking after our dogs Shydi & Sigma, they had a fab time as Shydi didn't want to come home, when they did they both looked a bit lost and Shydi had a face on her with dropping lips. I think you run a really lovely place, caring for all the dogs and their needs, including a flea treatment for ours, and I love the fact that they are all given the freedom to do what they love to do naturally, playing. Big thank from us all, until next time. The Killicks, woof, woof!
Stevie Killick
A beautiful home from home for your dog
We travel a lot and love our Airedale to bits,
Josie and Sean offer the most perfect solution we could have ever imagined. Phoebe goes there willingly (not always the case with previous carers) and comes home happy and relaxed. It is the perfect environment to leave your beloved pooch with and the kindest loveliest people who run it.
A huge Thank you from us
Bee and Alan xx
Beverley Pearce
She really is treated like one of the family
I could not recommend Sean and Josie high enough, they are just amazing with Gabi when ever she goes to stay, in fact so amazing that she doesn't like coming home 🙂 She really is treated like one of the family and that's what we liked so much.
Georgina Streets
He had a great time!
We were anxious leaving Scruffy, our ten year old Border Terrier, in a new environment. We needn't have worried, he had a great time! Lots of new friends in great surroundings.
Thank you for your kindness, Josie. We wouldn't hesitate in recommending Le Chene Vert to anyone !
Edward and Mary Alexander
Edward Alexander
A wonderful Environment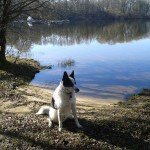 Josie seems to genuinely care about all of the dogs she looks after. Our Husky cross Dexter seemed to have a brilliant time there, lots of socialisation with other dogs and very well cared for. It was also comforting to be updated regularly with photo's showing him enjoying himself. I would have no problem in recommending this service to friends and will hopefully be using Doggy Holidays again in the future. Keep up the good work Josie.
Russell & Lesley Fry
Long term stay
We left our boys with Josie for a long term stay while we were abroad. Lovely caring environment. I am not sure they wanted to come home! We felt reassured and the boys obviously had a good time. We will definitely ask Josie to care for the boys and our new addition next time we go away.
Superb!
Susan Bathie
Great stays already for Elsa
Great stays already for Elsa ! If there is a place where I can leave her without any doubt it's at Doggy Holidays !
Christine Edmonds-Riley
Poppy loves her holidays at Le Thiat
Poppy loves her holidays at Le Thiat. And for us it is so great that we can relax knowing she is happy, safe and well cared for.
Ashwyn Smyth
Thank you SO MUCH for looking after the girls so well
Just want to say again, thank you SO MUCH for looking after the girls so well. The experience of being away from me and home has been good for them and they've obviously had a great time with you.
Angie Winterbottom
Home from home TLC
If you're ever in France and need a dog sitting service, try this one out! Home from home TLC, a lake on site, long walks in the countryside when required and use of the furniture for chilling out! The holidaymakers always seem so happy when we FaceTime, so Josie must doing something right!
Anne-Marie Thompson
They LOVE it!
Our two Bichon Frises have been on holiday here lots of times and they LOVE it! One of them looks forward to the long walks, the other hides under the table but enjoys his extra biscuits!
Dave Beet